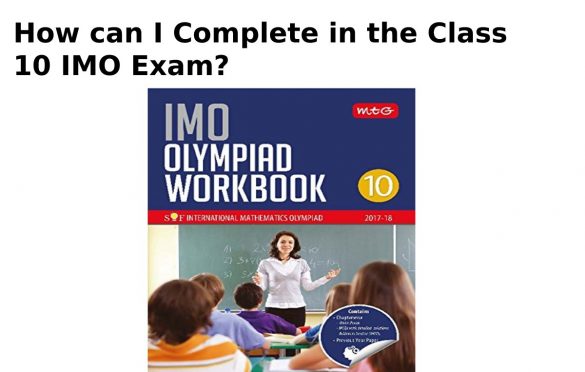 How can I Complete in the Class 10 IMO Exam?
The International Mathematics Olympiad, or IMO, is a top mathematics Olympiad organised by the Science Olympiad Foundation for students to lay the groundwork for higher-level mathematics education. IMO helps students improve their problem-solving abilities and analytical thinking by presenting them with high-level thinking issues. This helps them prepare for future competitive tests.
Mathematics is one of the academic areas in which students must master concepts. Thorough practise is one of the most important aspects of studying mathematics, and the International Maths Olympiad (IMO) is one such arena where students are schooled to comprehend its fundamentals.
Indian Talent Olympiad (ITO) organises International Maths Olympiads in schools across India. It is accessible to kids in grades 1 through 10. All of the questions on these examinations are multiple-choice. The Olympiad test also serves as a foundation for pupils to achieve academic success. It provides kids with an advantage over their peers when it comes to answering difficult questions.
How to Take Part in a Math Olympiad?
Schools that are interested in participating in the Mathematics Olympiad can do so by enrolling online with the Indian Talent Olympiad (ITO).
Students can enrol in the programme by approaching their subject instructor.
Several schools in India have partnered with ITO. Faculty members discover kids who excel at arithmetic and urge them to compete at the national and international levels.
Registration forms for schools are accessible on the website, Indian Talent Olympiad.
The Indian Talent Olympiad honours worthy students who place first in the Math Olympiad test with medals and incentives.
To begin competing, students should be aware of the numerous resources accessible and have a comprehensive and complete comprehension of the class 10 syllabus. Class 10 papers are somewhat different from previous classes, and practising in the same style would assist the student to achieve in the Olympiad.
Syllabus
The Maths Olympiad is one of the most renowned tests in the world. These are held on a national and worldwide scale for math aficionados. The syllabus for this test is the same as that provided by all of the country's boards. It corresponds to the curriculum of the CBSE, ICSE, and other state boards. Students who study for this test improve their math skills. It makes dealing with numbers, patterns, measures, forms, money, fraction, time, calendar, data processing, decimals, ratio, proportion, algebra, geometry, trigonometry, and many other mathematical concepts more entertaining for pupils. It improves their fundamental understanding of the sums given in class. Math is one such topic that demands students to practise various types of questions regularly. The International Maths Olympiad (IMO) syllabus can be used to improve competency and accuracy in the discipline.
Class 10 Maths Syllabus
Chapter 1: Real Number
Chapter 2: Arithmetic Progression
Chapter 3: Polynomials
Chapter 4: Quadratic Equations
Chapter 5: Probability & Permutation Combination
Chapter 6: Co-Ordinate Geometry
Chapter 7: Triangles
Chapter 8: Circle and Its Area
Chapter 9: Quadrilateral and Its Area
Chapter 10: Mensuration
Chapter 11: Trigonometry
Chapter 12: Data Handling
Chapter 13: Logical Reasoning
How to Prepare for Maths Olympiad –
Preparation is essential when a student is taking a competitive test such as the International Mathematical Olympiad. Maths Olympiad Workbooks and Class 10 IMO Question Paper 2011 and others were introduced by the Indian Talent Olympiad for kids in grades 1 through 10. Subject matter specialists create the study materials. The questions are in multiple-choice style and cover subjects from the most recent curriculum. Olympiad preparatory material makes it simpler to prepare for the games.
Worksheets
Olympiad worksheets for Maths have been created by subject-matter experts. The books are accessible for all grades, from first to tenth. Workbooks for all subjects can be ordered and purchased online by students. Each chapter is covered in detail in these workbooks. Parents and teachers may review Olympiad syllabuses and compare them to school syllabuses. Furthermore, they may access workbooks online and learn about the kind of questions that will be asked. All workbooks are created with the student's learning potential in mind. It provides them with so many options that it makes it easier for kids to understand difficult problems. The syllabus for the International Maths Olympiad has been provided below, class by class. Please click on the appropriate class to learn more about it.
Preceding Year's Exam paper
Students benefit from the prior year's question papers. It enables students to understand the level of difficulty of the paper. It is easier for pupils to understand the kind of questions that will be asked on the final test. When students have completed the previous year's question papers, it is much easier for them to participate in the yearly Olympiads. The package includes question papers for Science, Mathematics, English, and General Knowledge. Participants can either purchase individual topic question papers or obtain a combo bundle that includes questions for all subjects. It is also known as the all-in-one pack since it contains answer keys, OMR sheets, and a range of tests
Sample Worksheet – The Indian Talent Olympiad allows all parents, instructors, and Olympiad applicants to review the workbooks given by the organization. It enables anyone interested in purchasing these books to see the kind of queries. As a result, after reviewing the example workbook, students can make an educated conclusion. These books are available for students in grades 1 through 10. Workbooks for all topics follow the same format, including multiple-choice questions and answer keys.
Sample Question Paper – The sample question papers are similar to the sample workbooks provided by the Indian Talent Olympiad. The best aspect about these sets is that customers can view how the papers are prepared, the sort of questions asked, and the level of difficulty of these questions before purchasing them online. On the top of each example paper, the class syllabus is mentioned. The exam format, marking structure, the number of questions answered in the paper, and marks per question are all extremely simple to grasp. Parents can follow portions of the paper and anticipate the questions that will be asked in each area. All Olympiads include three parts.
IMO class 10 is broken into four sections with a total of 50 questions for a total of 60 points:
Logical Reasoning – This component assesses students' logical and mental abilities as well as their analytical and general intellectual abilities through Verbal and Nonverbal Reasoning.
Mathematical Reasoning – This portion assesses students' comprehension of mathematical ideas as well as their calculative abilities. This section's questions might be calculative and time-intensive.
Common Mathematics – This component tests the candidate's ability to think critically by posing questions about the combination of everyday problems and general management.
Achiever's portion – This section puts pupils to the test with questions covering a wide range of topics. This portion makes a significant difference in the rankings since it comprises 5 questions with a larger weightage and an advanced level that necessitates higher-order thinking skills.