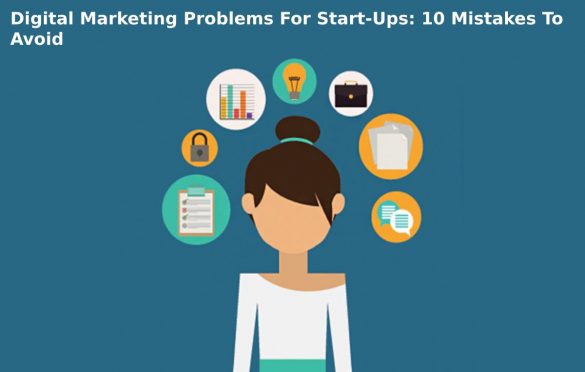 Digital Marketing Problems For Start-Ups: 10 Mistakes To Avoid
Start-ups are a Curious Lot
They have revolutionized the world of business in remarkable ways. Thrifty and frugal, start-ups have made a name for themselves by taking risks and generating unreal ROIs.
Start-ups and digital marketing are a natural fit. The reliance on technology, digital awareness, and the use of data has made them fall in love with online marketing strategies.
However, while one start-up might succeed with digital marketing, the same cannot be said of the numerous other ones that fail!
Start-ups that have not been able to make the most out of their digital marketing engagements might want answers to questions like-
Why wasn't I able to make sales from digital marketing?
What are some areas that I needed to target for customers?
How long should I have invested in a strategy?
In this article, we try to help start-ups looking to turn around their digital marketing fortunes. Specifically, we discuss ten mistakes that start-ups need to avoid in digital marketing.
List of 10 Digital Marketing Mistakes Start-Ups need to Avoid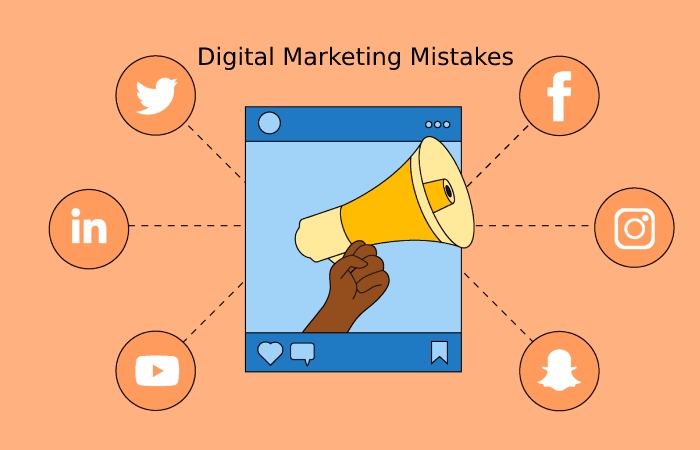 1. Setting too Many Expectations Right at the very Outset
The internet is rife with how digital marketing is an omnipotent god that can guarantee all that you pray for. From finding customers to making sales, to improving branding and generating customer loyalty, everything can be provided with the help of top digital branding companies.
You only need to ask! This is a faulty expectation, to begin with. Expectations should be set in stages and not more than two at a time. If your business is relatively new, you need to expect and target awareness and not sales.
Also Read: How to do b2b website design?
2. Selecting the Wrong Digital Marketing agency for your Strategies
Choose the right agency and they become an asset to your business. Choose the wrong one and you are looking at major losses. When it comes to selecting an agency, a one-size-fits-all model hardly works.
You need to go for agencies that understand your business, what you are trying to achieve, and how you want to get there. Black-Owned digital marketing company might be the best fit for a Black-owned or operated business that understands the specific challenges.
3. Trying too many Digital Marketing Strategies all at one Go
The age-old addendum- 'too many cooks spoil the broth' applies to digital marketing as well. Success in digital marketing means starting with a few strategies and optimizing them for the best results.
This means looking at the data, investing in the strategy for a defined period, and then doing course corrections. If you pursue too many things all at one go, you will not be able to monitor, track or assess where you are going wrong or even right. Start small and cautiously.
4. Thinking Digital Marketing Strategies are Universal in their Success
While some digital marketing strategies might work for one type of start-up, it does not necessarily mean it will work for your business as well. Stop believing in every word that so-called digital marketing experts have to say.
They put out strategies based on one or two individual experiences. Generalizing the same is a grave mistake you need to avoid. While it can help you with a start, you need to experience the same through a trial-and-error model.
5. Overcompensating for Lack of Creative Content Making with Technical knowledge
There is no denying the fact that data is critical to digital marketing success. However, you cannot overdose on technical bits and not pay attention to creative content making. For example, videos have great reach, but they do so only when the contents are engaging enough.
As a start-up, you need to invest in setting up your content as a foundation for all your digital marketing strategies. Investing in blogs, videos and photoshoots are essential. If there is one area you should not compromise on, it is creating high-quality content.
6. Running after Sales as soon as you Start the Business
No matter how much you work on your Facebook or Instagram shop, or your Ecommerce platform, sales will not come! Do you know why? Because the digital consumer today is much more aware of looking up the site's credibility and trustworthiness.
They do this before spending their hard-earned money. The first step is to spread your brand awareness by working on your SEO and SMM. Once you have laid the base contributing to awareness, you can expect sales.
7. Depending Completely on the Digital Marketing Agency for Everything
Trust me. You do not want to be a start-up that needs to be spoon-fed on everything related to digital marketing. By leaving everything to the agency, you are exposing yourself to myriad risks and vulnerabilities. How can you overcome this mistake?
However, it is simple Try to get yourself as educated and informed about digital marketing as possible. Not only will it help you improve your skill-set, but it will also ensure that the agency is not able to take you for an expensive ride.
8. Believing Digital Marketing is Inexpensive and Budget-Friendly
No matter what you do, if you want quality, you have to shell out money. The same rule applies to digital marketing as well. Start-ups have limited resources, to begin with. While they want to pursue digital marketing, they want it to be done at a fraction of the price.
Meanwhile, for that kind of a budget, they should not expect the stars and the moon. Investing in digital marketing pays off all the time. This is why you need to be prepared for making investments in your strategies.
9. Eliminating all other Traditional Marketing Approaches and Strategies
Start-ups need to ensure that they are opting for a hybrid model of marketing. There are many start-ups business models that can benefit significantly by still relying on traditional channels of marketing.
Just because digital marketing is the shiny new toy, you should not pursue it before evaluating what suits your business and brand better. Thus, Engagements with offline channels might be necessary as your audiences might still be present and active on such platforms.
10. Going after Advanced Digital Marketing Strategies before Covering the basics
Before you go for PPC ads, make sure you set up your GMB pages first. Many start-ups, simply because of the nature of their business model believe that complex is better than simple approaches. That is not necessarily the case.
Digital marketing needs to be pursued on levels. You cannot go to level five without going through levels one, two, three, and four. Establishing the right foundation through beginner strategies is key to long-term success.
The Final Word
It is true that if done in the right fashion, digital marketing can be perfect for your start-up. The key is to keep it simple and not get overwhelmed with all the literature, agencies, and strategies. Therefore, Move from one step to another to gain an understanding of what is exactly happening.
If you have any other doubts, questions, or clarifications that you want to be addressed, please make them in the comments below. And, we are more than equipped to handle and offer constructive solutions for every one of them.
Also Read: 5 Benefits of Accounts Receivable Management Software