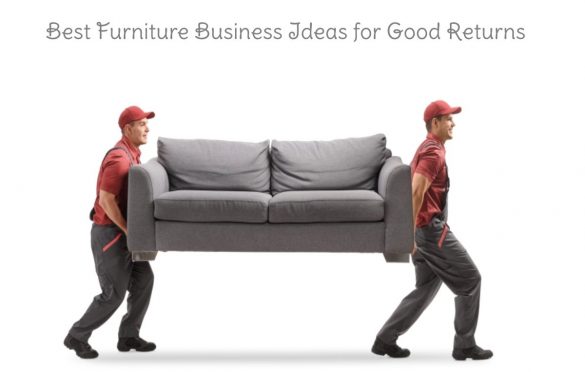 Best Furniture Business Ideas for Good Returns
The furniture industry is developing at a rapid pace in India. Small business entrepreneurs are coming up with great business ideas to start their manufacturing unit. Not only that, but they are also coming up with some unique furniture designs and styles. This growth is even further propelled by several government initiatives like business-friendly utgst rates. So let's just jump right to some of the best furniture-related business ideas that you could pursue immediately:
Wooden Furniture Making
Wooden furniture is the most common type of furniture used in urban areas. It is also a highly profitable business project. Wooden furniture manufacturing has evolved as one of the most blossoming businesses in India. To start this business, you need to invest Rs 5 Lakhs and above.
Furniture Upholstery Business
The upholstery business is for people who love fabric and colours. They can start this business by investing Rs 1 lakhs and above. This business is easy to start and doesn't require much space for operating the business. You need to be creative enough to make your design as per the customer's demand.
Furniture Designing Business
A lot of people live in apartments nowadays, and they want to decorate their home beautifully with modern and classy furniture so that they will look more beautiful than the rest of the home.
There is always a demand for unique, stylish and comfortable modern furniture that matches the exterior of the apartment. You can start your own business by designing this type of furniture.
Sell Used Furniture
Selling old furniture also offers good returns if you do it in the right way. If you have a good stock of old furniture and know the art of selling them, you will make good money from this venture.
Customized Furniture Manufacturing
The business can be started on a small-scale basis with small space and low investment. Making customized furniture requires creative skills, good knowledge of design, and technical knowledge of manufacturing various types of furniture.
Antique Furniture Making
Antique furniture making is an evergreen business opportunity as antique furniture has always been in demand in India. The antique furniture business has gained momentum due to increased demand from hotels and resorts along with individual customers who want to add an old rustic look to their homes or offices.
Sell Woodcutting Tools
In India, many woodcutters and carpenters make furniture and other items from wood. These people usually do not have the right tools to cut the wood into pieces of the right size. You can start a business selling high-quality woodcutting tools such as saws, hammers, chisels to carpenters and woodcutters. With a little bit of creativity, you can also add other products such as sanding paper, nails etc. to your product range.
Chair Caning Business
Cane chairs are more fashionable now than ever before. Therefore, starting a chair caning business is a great idea for you if you want to earn money with less investment. The cost of starting this type of small-scale manufacturing unit is Rs 2 lakhs and above. You will need skilled manpower that knows knitting, weaving, etc. You will also need to procure raw materials like cane, wood and other types of accessories required to make the chair.
Regardless of the furniture business type you choose you should always do proper market research and understand the tax system around it like the furniture GST rate and the required paperwork.