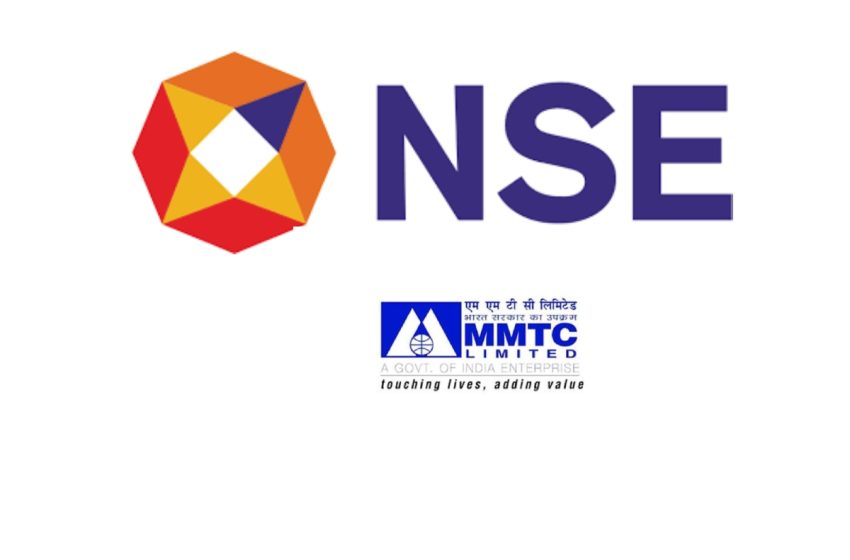 NSE: MMTC Limited Share Price
NSE: MMTC
NSE: MMTC – MMTC Ltd establish in 1963. And also, it is one of India's two most important foreign exchange sources. It is a leading international trading company with around 10 billion dollars in turnover in America. It is India's most prominent global trading company and the first public sector company to be granted "FIVE STAR EXPORT HOUSE" status by the Indian government for its longstanding export contribution. MMTC is the largest non-oil importer in India. MMTC's various business activities encompass third-country trade, joint ventures, and linkage agreements – all the modern tools of international trade. Its extensive global sales network includes a wholly-owned international subsidiary in Singapore, savor.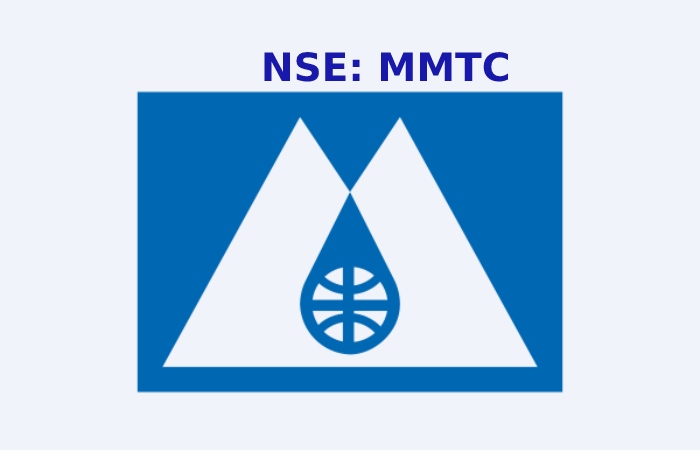 The Business Area of the Company
The company's main business activities are the export of minerals and the import of precious metals, non-ferrous metals, fertilizers, agro-food products, coal and hydrocarbons, etc. commodity exchanges, etc. The Company's business activities span various countries in Asia, Europe, Africa, and the Middle East.
Business Verticals
Agricultural products
Coal & hydrocarbons
Fertilizers
Metals and industrial raw materials
Minerals
PMD Retail
Precious metals, gemstones, and jewelry
Projects, Engineering Exports, and General Trade
Awards
2012-13:
India's Most Caring Companies Award at MMTC presented by the "Global CSR Congress" recognizing organizations for their contributions to the field of CSR.
Star Performer Award for the Year 2011-12 in Basic Iron and Steel Product Group (Large Enterprise) by EEPC (National Award)
Best Exporters for the Year 2010-11, Silver Trophy, Medium Enterprise by EEPC India (N.R.)
2013-14:
CAPEXIL Highest Export Award for the Year 2011-12 for Channeled Agency Export Achievement (Minerals & Minerals Sector) – 21st consecutive time.
Certificate of Excellence from the Department of Export Promotion and Marketing, Government of Odisha, for outstanding performance in the export of pig iron under the Metallurgy group and in the export of iron ore, chrome ore, and of concentrate under the Minerals group for the year 2010-11.
Rajbhasha Trophy for 2013-14 by the Ministry of Commerce. Second Prize for Excellence in the Implementation of the Official Languages Policy.
2015-16:
CAPEXIL Award – Best Exporter for 2012-13
EEPC Award – Gold Trophy for Best Exporter in Merchant Enterprise category for 2013-14
Amity University – Export Achievement Award for India's Minerals and Metals Export Revolution
2016-17:
CAPEXIL price for total mineral exports in 2014-15. This is the 24th time MMTC has won CAPEXIL's most coveted award in the highest category.
"Best agency providing gold to most clients" FY 2015-16 by GJEPC.
"Best Nominated Agency" for the 2015-16 financial year at the Indian International Gold Convention 2016.
"And also, best Nominated Agency" for the 2015-16 fiscal year at the Bullion Federation Global Convention 2016.
Special Trophy for Excellence in Exports of MEIS Items in the Merchant Category by EEPC.
Star Performer Award for the Year 2014-15 in Product Group – Basic Iron and Steel (Large Enterprise) by Engineering Export Promotion Council
Best Director Award for Major Industries (PSU) at EXPO 2017 from Utkal Chamber of Commerce and Industry (UCCI).
2017-18:
"Gold Trophy" for the year 2014-15 in the Merchant Exporter category by EEPC Northern Region
Special Trophy for Exports of MEIS Items in the Merchant Category in the National Award Category by EEPC
2017 IIGC Award for "Promising Government Nominated Agency for Bullion Sourcing for 2017".
2017 BFGC Award for "Nominated Best Agency for Providing Money to Exporters."
2018-19:
MMTC Recognized as Top PSU Named Agency of 2018-19 for Bullion Sales.
NSE: MMTC Price
Company share prices keep on changing according to market conditions. The closing price of NSE: MMTC on 20-Apr-2023 at 18:01 is 29.16.
What are the key metrics to analyze MMTC Share Price?
Critical Metrics for MMTC are:
PE Ratio of NSE: MMTC is 2.62
Earning per share of NSE: MMTC is 11.14
Price/Sales ratio of NSE: MMTC is 0.56
Price to Book ratio of NSE: MMTC is -30.35
MMTC Stock Price Analysis and Quick Search Report. Is MMTC an Attractive Stock to Invest in?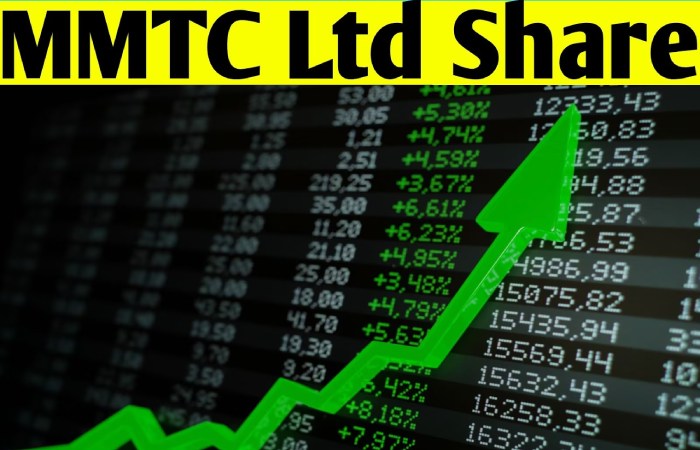 Investing in stocks requires careful examination of financial data to know the company's actual net worth. This is usually done by reviewing the company's profit and loss account, balance sheet, and cash flow statement. This can be time-consuming and tedious. An easier way to know a company's performance is to look at its financial ratios, which can help make sense of the overwhelming amount that can be found in its financial statements.
Here are a few must-have tools that should be part of every investor's research process.
PE ratio
Price to earnings ratio indicates for each rupee of earnings how much an investor is willing to pay for a stock. A general rule is that stocks trading at a low P/E  undervalue (it also depends on other factors). MMTC has a PE ratio of 3.72 which is ordinary and relatively undervalued.
Return on Assets (ROA)
Return on Assets measures how efficiently a business can generate a return on its asset investment. In other words, ROA shows how efficiently a corporation can convert the money used to buy assets into net income or profits. MMTC has a ROA of -5.09%, which is a bad sign for future performance. (higher values are always desirable)
Current ratio
The current ratio measures the capacity of a company to pay its short-term debts with its existing assets. A higher current ratio is attractive so the business can be stable in the face of unexpected business and economic shocks. MMTC has a current ratio of 0.97.
Return on equity
ROE measures a company's ability to profit from its shareholders' investments. In other words, the return on impartiality ratio shows how much profit each rupee of equity generates. MMTC has an ROE of -78.57%. (the higher, the better)
Debt ratio
It is an excellent measure to check the capital structure and its performance. MMTC has a D/E ratio of 13.19, which means that the company has a high amount of debt in its capital.
Inventory Turnover Ratio
The Inventory Turnover Ratio is a deed ratio and is a tool to gauge the liquidity of a company's inventory. It measures how often a business has sold and replaced its inventory over a certain period. MMTC has an inventory turnover ratio of 222.55, which shows that management is efficient in managing its inventory and working capital.
Sales Growth
MMTC recorded revenue growth of -68.19%, which is mediocre compared to its development and presentation.
Operating Margin
This will tell you about the operational competence of the business. MMTC's operating margin for the current fiscal year is 5.33%.
Dividend Defer
It tells us how much extra we will obtain relative to the share price. The current year dividend for MMTC is Rs 0, and the yield is 0%.
Frequently Question Answers to NSE: MMTC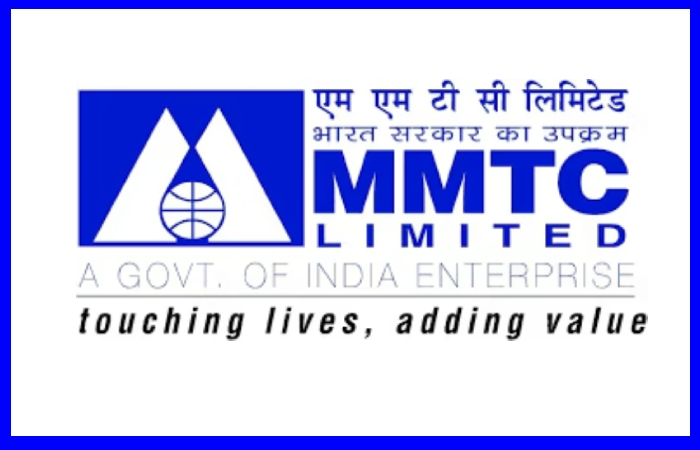 Is NSE: MMTC Ltd a good quality company?
The past 10 year's financial track record analysis by Moneyworks4me indicates that MMTC Ltd is a below-average quality company.
Is NSE: MMTC Ltd undervalued or overvalued?
Compared to its past, the critical valuation ratios of MMTC Ltd seem to suggest it is in the Overvalued zone.
Is NSE: MMTC Ltd a good buy now?
The Price Trend analysis by MoneyWorks4Me indicates it is Semi Strong which suggests that the price of MMTC Ltd is likely to Rise-somewhat in the short term. However, please check the rating on Quality and Valuation before investing.
Why NSE: MMTC share price is low?
This news of the closure was the main reason driving the sharp fall in the price of NSE: MMTC since the Modi government wants to reduce the burden on the exchequer of running such loss-making PSUs.
Is NSE: MMTC debt free company?
Corporation has high Debt to Equity ratio of 13.19. The company has contingent liabilities of 2,507.58 Cr.
Can we buy gold from NSE: MMTC?
At NSE: MMTC-PAMP, we price gold at the declared gold rate of the day and provide a detailed purchase and tax invoice. We pay the total value of your gold via same-day bank transfer.
What went wrong with MMTC?
MMTC's profits have fallen sharply mainly because of the ban on iron mining in Karnataka, strictures on iron ore exports, and increased railway freight for iron ore. Segment profit from minerals and iron ore stood at ₹ 120 crores in FY10 and merely ₹ 45 crores in FY13.
Who is the CEO of MMTC?
Vikas Singh
Vikas Singh is the MD & CEO at MMTC-PAMP India Private Limited.
Also Read: NSE: Unitech – Share / Shock Price Today
Related Searches to nse: mmtc
[nse: mmtc]
[nse mmtc]
[mmtc share price nse]
[mmtc nse]
[nse mmtc share price]
[एमएमटीसी शेयर प्राइस]
[mmtcshare price]
[nse:mmtc financials]
[mmtc news]
[mmtcshare price nse]
[mmtc share rate]
[share price mmtc]
[mmtc share price today]
[price of mmtc]
[mmct share price]
[mmtc screener]
[mmtc stock price]
[mmtc price]
[mmtc ltd share price]
[mmtc news today]
[mmts share price]
[mmtc share price nse india]
[mmtc price list today]
[mmtc share price]
[mmtc ltd products]
[mmtc business]
[mmtc share price target today]
[mmtc company]
[mmtc online]
[mmtc share]
[mmtc pamp share price]
[mmtc full name]
[mmtc stores]
[mmtc ltd]
[share price of mmtc]
[mmtc limited]
[mmtc careers]
[mmtc full form in english]
[mmtc share price bse]
[[mmtc limited share price]
[mmtc share price target 2025]
[mmtc]
[rate of mmtc]
[mmtc share price target 2022]
[mmtc share price target tomorrow]
[mmtc share price target 2021]
[mmtc latest news]
[mmtc stock]
[www.mmtclimited.com]
[nmtc share price]
[stock price of mmtc]
[mmtc target price]
[mmtc price today]
[make my trip share price nse]
[mmtc price list]
[what is mmtc]
[moneycontrol mmtc]
[mmtc india]
[mmtc ltd.]
[mmtc gold price live]
[mmtc official website]
[mmtc-pamp gold price graph today]
[nse:mmtc]
[mmtc products]
[mmtc gold rate live]
[mmtc gurgaon]
[mmtc gold price chart]
[mmtc near me]
[mmtc gold price graph]
[mmtc pamp gold price live]
[mmtc gold rate today]
[mmtc share price target]
[mmtc rate]
[mmtc gold price today]
[mmtc pamp gold price graph
[mmtc-pamp gold price live today]
[mmtc-pamp gold price live]
[mmtc gold price]
[mmtc company products]
[mmtc gold price list]
[bom: 513377]
[mmtc rate list]
[mmtc website]
mntc share price]
[mmt share price]
[mmtc full form]