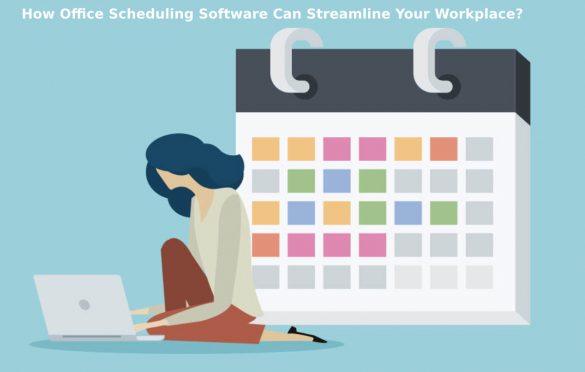 How Office Scheduling Software Can Streamline Your Workplace?
Software Can Streamline Your Workplace – Today's business climate is fast-paced, dynamic, and competitive in almost every industry. The success of any company is directly linked to how quickly and efficiently its employees can operate. In other words, productive work environments result in better companies.
Thankfully, there are several tools that can streamline your office's efficiency without requiring a lot of time and money from management. One such tool is the use of an office scheduling software system. These programs allow for streamlined communication between team members about their availability.
They also help streamline the allocation of shared workspaces like meeting rooms and break areas to optimize productivity, reduce waste, and streamline workflow processes so that employees are not double-booked or left waiting outside an unused room while another employee finishes up inside it.
What is Office Scheduling Software?
Office scheduling software is exactly what it sounds like software designed to assist with scheduling office employees. Whether in a virtual or brick-and-mortar environment, this software allows employees to view their current availability through the system and communicate their schedules with one another.
The system can also be used to generate employee availability reports and make adjustments as needed without having the inconvenience of pestering employees to update their own availability manually. Office scheduling software can also be used in virtual offices, where it may be even more important to keep a close eye on time and scheduling, as there are few visual cues about an employee's availability. This software can also be useful in a hybrid environment, where employees work both on-site and remotely.
Streamline Communications With an Office Scheduling Program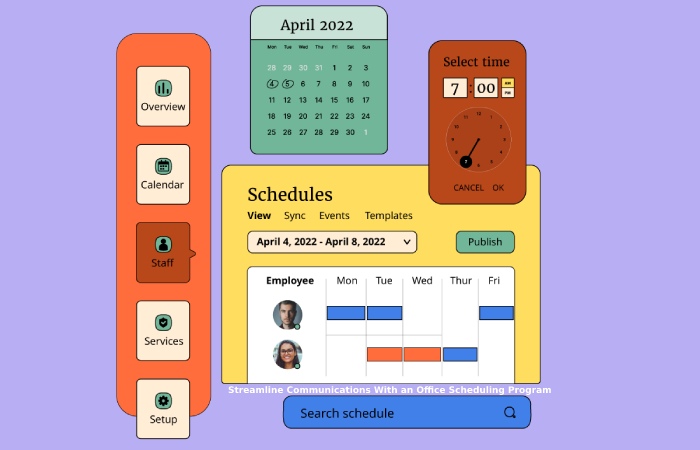 One of the most important aspects of any office scheduling software system is its ability to streamline communication. Ideally, employees should be able to access the scheduling system from anywhere, whether through a computer, laptop, tablet, or smartphone. This allows them to view their own schedule and the schedules of fellow team members.
They can also request time slots to book meeting rooms and other shared spaces, as well as make changes to their schedules as needed. The system should also allow employees to send messages to one another through the scheduling interface.
Allocate Shared Workspaces Efficiently
Office scheduling software can also help you more efficiently allocate shared workspaces such as meeting rooms and break areas. This feature can be particularly helpful for environment managers who need to keep track of when and for how long certain spaces are in use. Meeting rooms and break areas are often shared by multiple teams, and the scheduling software can help you manage this. For example, if your company has a designated "review" room that is supposed to be used to conduct employee performance reviews, an office scheduling software system can ensure that it is not double-booked with another event that would disrupt an important and sensitive meeting. This can help reduce the risk of disrupting productivity and causing confusion.
Help Employees Stay Organized and on Task
Office scheduling software can help employees stay more organized and on task by providing them with a centralized location to view their schedules and track their tasks. Employees can include their scheduled meetings, appointments, and other time-sensitive events in their calendars and access them from wherever they have Internet access.
This can help them avoid double-booking themselves or missing important meetings. It can also help them stay informed about upcoming events or activities that might impact their time, such as a team lunch or company meeting. Employees can also use their calendars to track their tasks, such as the ones assigned to them by their managers. This can help them stay on top of their workloads and avoid letting tasks slip through the cracks, as well as keep their managers informed about their progress.
Summing it up
Office scheduling software allows employees to view their schedules, share their availability with each other, and make informed decisions about their use of shared workspaces. It can also be used to track employee workflows, track tasks, and help managers keep employees on track and informed. This software can help any company run more efficiently and better meet the needs of its employees.