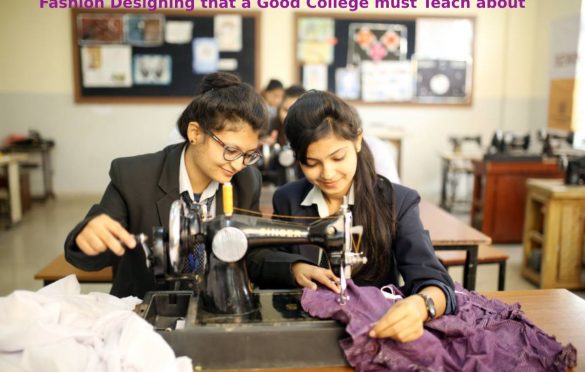 Type of Fashion Designing that a Good College must Teach about – 2023
Type of Fashion Designing that a Good College must Teach about
It is the creation of art in the form of limited edition clothing and accessories and applies to bespoke garments for individual customers. When designing clothes for your customers, make sure they are handmade, and the fabrics used are of the highest quality.
What does a Fashion Designer do?
Basis the art, culture, consumer taste, ensuing trends, and the social fabric, a fashion Designer conceives, ideates designs creates, and executes trending apparel or accessories or footwear. He also needs to select the ideal fabric, material, color, pattern, and texture and get the prototypes of the designs ready and then get final design approval by the client before overseeing the final production of his collection.
Types of Fashion Design
Haute Couture Fashion: First in the fashion design hierarchy, Haute Couture Fashion involves the conceptualization, designing, and sewing of customized clothing and accessories for private clients using the finest materials and expensive notions. These made-to-order garments are individual works of art requiring extreme attention to detail and countless man-hours since they are usually made by hand.
Luxury Fashion: Luxury Fashion is next in the hierarchy and is high-quality exclusive clothing. This is neither hand–made nor made in large quantities, thus giving its consumer a sense of being exclusive and elite. In addition to its limited availability, the nuanced designs, use of expensive high-quality materials and high price make it more desirable.
Ready-to-Wear Fashion: This is easily accessible to the public since it remains mass-produced in standard sizes. The focus here is to produce and sell attractive garments in large numbers. Since such clothes are available at ordinary shops on the main street (or high street) in town. Ready-to-wear fashion is also called High street fashion.
Fast Fashion: Consumers who do not want to splurge but still want to look trendy choose fast fashion since this involves fashion designs that remain not only inspired by fashion shows but also are mass-produced.
Economy Fashion: Using the cheapest materials, labor, and mass production, Economy fashion garments are not only low in quality standards with a shorter life span but are also available at low prices.
The colleges provide comprehensive knowledge about various types of fashion designing and offer competencies in multi-disciplines besides apparels such as accessory design or footwear design etc.
Fashion Designing Colleges
Many Fashion Design colleges are offering courses at both undergraduate and post-graduate levels. In order to select the ideal course following points need to kept in mind:
Accreditation & Recognition: Accreditation to academic councils and other prestigious industry bodies endorse the college's high quality. A certification that is recognized at both International. And international levels must be one of the main criteria in choosing the right college.
Curriculum: The curriculum of fashion design colleges of India must groom students in theoretical aspects. Conceptual understanding, practical training, skill development, and ways to interface with the industry. The syllabus must not only aligned as per the latest trends but should also be industry-relevant. In addition, the college must have a well-equipped studio for the students to hone their skills. And gain as much practical training as possible.
Global Exposure: Fashion design students with global ambitions would like to gain international exposure by participating in global events. And global competitions and through internships, student exchange programs & interaction with global experts, etc. The chosen college must not only have a curriculum catering to global requirements. But also industry links with overseas partners like global fashion designing colleges, fashion houses, designers and manufacturers, etc.
So don't wait up since the flourishing Fashion Design industry offers huge potential and hence makes for an intelligent decision to jump on board and register for Fashion Designing course.