Video Marketing Tips for Saas Companies
Video marketing is unrivaled when it comes to simplifying complex subjects. For SaaS companies, video is the most effective technique to give a quick overview of the software, with step-by-step instructions on how to use it. If done correctly, video marketing with a proper video editor can help drive more traffic, increase audience engagement, create relationships with new business prospects, and raise content marketing ROI. 
Video marketing also helps SaaS companies by shortening their sales cycle and improving customer loyalty. It's a form of marketing that's trending among SaaS marketers, especially since one video on the landing page can boost conversions by as much as 80%. 
Seven Video Marketing Tips SaaS Companies Need to Implement 
Infographic Videos with Kinetic Typography
Infographics are a great method to convey complicated information in a very straightforward way. Infographics typically comprise statistical and research data that is presented in a visually appealing and well-structured manner. SaaS customers want to see clear data, measurements that are easy to understand, and predictable results. They are unlikely to make a purchase based on their emotions. As a result, if you've established a SaaS solution, employ an infographics-driven approach with integrated video to persuade users to sign up for a subscription. 
Why not try dynamic typography? It's a more advanced kind of animation video production that uses dynamic fonts to convey statistics and research data. In other words, this is an animation with moving text that helps infographics stand out and keep the viewer engaged.
Frequently Asked Questions (FAQs) in Video Format
When given the option of reading text or watching a video, a majority of consumers will choose the latter. This psychological trend can be used to address frequently asked questions about your SaaS product to great effect. Record detailed responses to user requests in video format and publish them in a unique FAQs section on your website. JotForm is an excellent example of a SaaS product that extensively uses video for FAQs. The team creates 30-second videos with clear answers to the most common inquiries, and their FAQs page is visually stunning! 
You can increase behavioral aspects by posting video replies on your website. Users spend 2.6 times more time on pages with videos than those without, according to statistics.
Use a Screencast to Share an Educational Video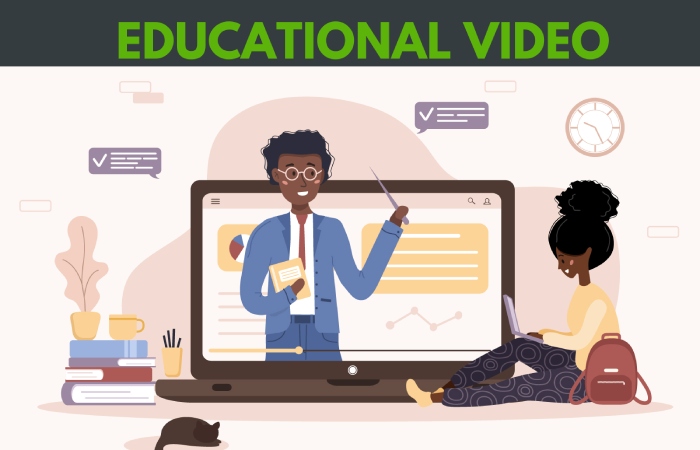 Did you know that 66% of customers indicated they made a purchase after seeing a high-quality educational film and expert content from a company? Users today are not only committed to branded instructional content, but they also expect it from businesses. Expert content is a must-have for effective SaaS marketing. The rationale is obvious: even if you've created the most basic and straightforward interface possible, it's always better to demonstrate it in action once rather than describe it 10 times in words. 
Furthermore, expert content allows you to establish strong brand authority in the industry and boost organic traffic to your website. In your film, use screencasts to show how your application works in real time. To improve the user experience, add voice explanations or live translations to the demo.
Create a Product Demonstration Video
Did you know that people who watch a demo video are 1.81 times more likely to sign up for your SaaS service? Providing a demo is no more a cutting-edge marketing plan, but rather a must-have feature for any SaaS company nowadays. This is the first and most important phase in the sales funnel. Even if your target audience is tech-savvy, you can't be certain that all users will be able to master your service from the first interaction. That's why watching a sample film and going over each software function and button is highly advised.
Use Storytelling and Social Media Videos
People prefer to buy from other people. This rule applies to all fields and industries. Humans produced innovative technologies, so it's only natural that your users would be curious about the people behind the scenes. Why not show yours? Everyone knows Bill Gates and Vitalik Buterin's faces, so why not show yours? Create a series of social and storytelling movies that highlight the work and product development process from the inside out, communicate your company's story and mission, and introduce clients and programmers to one another. 
To put it another way, try to make your product as human as possible. Don't forget to include social sharing buttons so that viewers can share your films. This is how you can ensure that word about your SaaS product and company spreads throughout the market, resulting in a significant increase in brand recognition.
Customers' Testimonials Presented in Videos
Fake reviews abound on the internet. Fortunately, people read reviews extremely carefully and can tell the real ones from the dubious ones. The advantage of video in this scenario is that the recorded evaluation is nearly impossible to fabricate. Customers who are extremely pleased with your product will readily agree to tell others about it and might even allow you to use their video as evidence. 
Furthermore, they can accomplish it on their own with a smartphone from their office or home. In this situation, you'll also benefit from user-generated content. Offer users a free month or half-yearly subscription to encourage them to produce video testimonials.
Create Company PR Videos
As a Saas company, it is quite important to do some PR online through various social media platforms as well as news websites and Youtube. You just need to be smart and move according to the flow. Well, there are many tools that can help you to create the best marketing videos but Invideo is the best option for anybody who is looking for an online video editor to create amazing video content. Overall, PR Videos play a vital role in the marketing and Saas company.
Bottom line 
Video marketing allows you to be as creative as you want. Your SaaS product's technological nuances and unique features will provide you with a solid foundation for developing non-templated, actionable video content. Choose the best options from the list based on your budget and objectives, and get started right away.