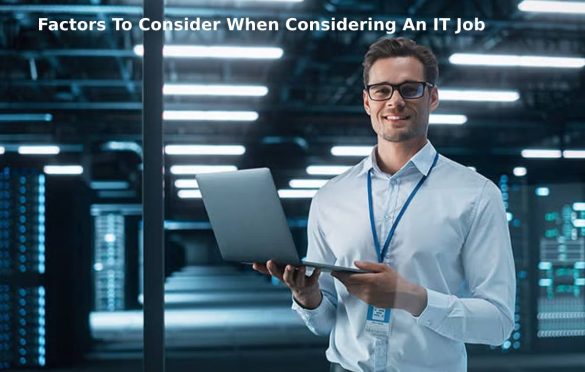 Factors To Consider When Considering An IT Job
When considering an IT job, you need to understand that it is more than just a job; it is a career. This career can significantly impact your future, so it is important to understand the various factors you must consider before committing to any IT role.
An IT career entails a heavy reliance on technology and computers. Therefore, you must comprehensively understand the latest computer software and hardware. You will also need to be proficient in coding and programming languages such as:
HTML: HyperText Markup Language is the standard language for creating websites and webpages.
Java: Java is a powerful programming language that can be used for developing applications for both desktop and mobile devices.
C++: C++ is an object-oriented programming language that has been around since 1985.
Python: Python is a high-level programming language to develop desktop and web applications.
In addition to technical proficiency, you will also need strong problem-solving skills and the ability to work in a team environment. You must be able to collaborate with other professionals on a variety of projects.
Desired Skills for an IT Job
Below is a detailed explanation of the desired skills to secure a great IT job title:
Technical Skills: As an IT professional, you must possess various technical skills to stay competitive and successful in the industry. This includes thoroughly understanding multiple computer systems, software programs, and networks. It would help if you also were comfortable solving complex technical problems using debugging tools.
Analytical Skills: To excel in IT roles, you must have the ability to think critically. This means having the talent to evaluate information, process it, and develop solutions for complex problems.
Problem Solving: IT professionals often encounter issues requiring immediate resolution. You must effectively identify, analyze, and solve problems with your acquired technical knowledge and analytical prowess.
Communication: Technical knowledge is essential, but you must possess strong communication skills to become an IT professional. You need to explain complex concepts and systems in a manner that non-technical people can understand.
Leadership Skills: Some IT roles require individuals to manage teams or projects. This requires coordinating resources, delegating tasks, and communicating between different departments. Leadership skills are an absolute must for such roles.
Adaptability: Technology is constantly evolving, and so are the requirements of IT jobs. You must adapt to new trends and changes to stay competitive.
Management: IT professionals must be able to manage and lead teams. This means providing direction, creating deadlines, delegating tasks, and maintaining budget constraints.
Understanding the technical and soft skills needed to become a successful IT professional is essential. With your research and dedication, you can easily find the perfect IT job title that suits your needs.
These are the factors to consider when looking for an IT job:
Research the Company
You must research the company and IT department before applying for a job. Understand what services they offer, who their clients are, and any other information that can give you an idea of the company's working culture.
Job Description and Requirements
Carefully go through the job description, so you know exactly what skills and experience are needed. Understand the job requirements and duties to determine if they match your desired criteria.
Job Growth Opportunities
Inquire about any opportunities for career growth within the company. Many IT companies offer certifications and other advancement programs that can help you further develop your skills and abilities.
Salary and Benefits
Ensure that the job you are applying for offers a salary and benefits package that meets your expectations. Research salaries of similar positions in other companies to ensure you get a fair deal.
Location
The company's location is a crucial factor to consider. You must be comfortable commuting to the office or working remotely if required. Consider other factors such as proximity to family and friends, cost of living in the area, etc.
Company Culture
It is important to understand the company culture. Ask about activities or events the IT department participates in and investigate their work ethics. Make sure the team's values and beliefs align with yours, so you can stay motivated while working.
Professional Network
If possible, speak to current and past employees of the company. This can give you an insight into their working style, team dynamics, and job satisfaction. Also, consider networking with other professionals in your field to gain more information about potential employers.
By researching the skills needed for a successful IT career, researching potential employers, and understanding the job requirements, you can find the perfect IT job that meets all your needs.
The secret to getting a great IT job is to work with a reputable recruitment agency. They are experienced in successfully matching IT candidates with companies that offer the best job opportunities.
These are the benefits of working with Michael Page Hong Kong:
Experience: Recruitment agencies are knowledgeable about the IT industry and thoroughly understand job roles and requirements. With their expertise, they'll find your suitable job openings faster than searching for them.
Networking: The recruitment agency has an extensive network of employers, so you have more options to choose from. They also provide insights into the job market and can assist you in preparing for interviews.
Professional Support: Recruitment agencies provide personalized advice and support throughout your job search. They'll help you refine your resume, negotiate salary offers, and give mock interview practice to ensure that you are fully prepared for the job hunt.
Time Savings: Working with a recruitment agency will save you time and energy. They will work hard to find the right job for you, so all that's left is to make your final decision. The time saved can then be used to focus on other areas of your career.
Career Boost: With the help of a recruitment agency, you can find an IT job that offers growth opportunities and exciting challenges. This way, you'll gain valuable experience in the field and build a strong professional network.
Cost Savings: Working with a recruitment agency is cost-effective as they can source potential employers and negotiate salary offers on your behalf. You can rest assured that the best deal will be provided without hidden fees. 
Final Thoughts
Finding the right IT job is not an easy task. However, by understanding your goals and researching potential employers, you can find a job that meets all your desired criteria. Working with a recruitment agency is also beneficial for those who want to save time and get expert advice during the job hunt. With the help of an experienced recruitment agency, you can find the perfect job that helps you reach your highest career potential.