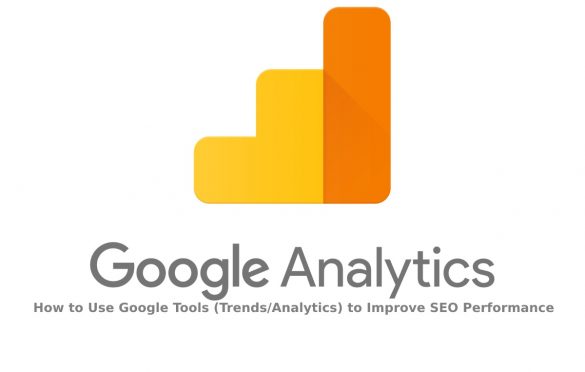 How to Use Google Tools (Trends/Analytics) to Improve SEO Performance?
Google Tools (Trends/Analytics) to Improve SEO Performance – Research shows that around 60% of all users who use Google search give preference to the top five websites or pages that come up under organic search. This goes to show that SEO optimisation and performance are not just important but also necessary.
Previously, businesses made use of in-person marketing, cold calls, paid advertising and other techniques to increase their brand awareness, attract customers and make more sales. However, in a earth where Google is the king of search, SEO has taken over. Now, the goal is to rank first and appear at the top of organic search results.
Well, there's no better way to rank on Google than by using the tools provided by Google itself. However, to be able to do that, you need to know how to correctly use the tools and what role SEO plays to get you the results you want.
Enter Google Trends and Google Analytics!
Google Trends and Google Analytics are two very common tools often used by digital marketing professionals. They are helpful for all website owners to be aware of the functions that can help them boost SEO performance.
Let's take a closer look at what these tools can do for you as a business!
Google Trends
Google Trends is majorly used to compare your target keywords to keywords which are synonymous with or related to them. It gives you in turn on the number of times those terms are being searched for on Google, which helps you get an idea on what keywords to target to boost your visibility.
1. Keyword Research
Using Google Trends for keyword research is not too complicated. You simply need to enter the keyword you want to gather data for and Google will bring detailed information about how many searches have been made on it.
It also brings up additional information based on the hikes in its usage over time and its geographical popularity, among other things. This characteristic is especially useful when you want to determine the popularity of certain keywords and phrases based on specific days like Christmas.
Businesses can use this information to design marketing campaigns to be tailored accordingly. This is often seen during events like Mother's Day, Father's Day, Easter and Thanksgiving. It can also be used to boost seasonal products and services.
2. Content Creation
Google Trends also helps in planning your content calendar. If you enter a keyword, it brings up an additional list of keywords that are related to it. These keywords are commonly referred to as secondary keywords. This can help you create content better and strategise your posts accordingly.
With the use of Trend Predictions, you can also determine which keywords related to your business are expected to experience a hike in usage and popularity.
In addition to that, it is also possible to find out what other types of search terms are being used by people which are related to your keywords. This would give you information on what you can add to your keyword list.
3. Analyse Local Trends
If you are running a business but your products are not selling as per your targets, what do you do?
Google Trends offers a way to measure the current local trends in any city, country or location. It generates data based on the most searched keywords in a particular region and how they are currently trending.
If the word "house plants" is trending in your area, you could consider using the keyword while creating content for your website to generate local traffic and make more sales.
This tool can also help in developing product ideas for businesses so you can sell products that are more in demand in your locale and vicinity.
4. Video Marketing
Did you know that Google Trends also works for video marketing?
Finding keywords for video creation is a pretty simple process.  All you need to do is button your keyword search setting from web search to YouTube search and you're good to go.
Video SEO is catching on fast as visual content is being consumed increasingly. So get ahead of the game and start optimising your business, your website and your online presence to capture the attention of your target audience.
Google Analytics
Google Analytics helps in monitoring and analysing data from your website. It uses search data to create an overall report of how your website is performing.
With this tool, you can derive information regarding the number of visitors on your, how they spend time on it, how long they stay on a particular page on your website and whether their browsing activity leads to conversions.
1. Landing Page Optimisation
Analytics helps you in a number of different ways. If you head over to the landing page section, you will find data about your landing page.
This data includes detailed information about the content and the pages that are gaining the most views or interactions from visitors. You can determine what content is doing well and decide whether similar or related content needs to be put up.
Visitors' interactions can also be looked into through clicks, impressions and average position, giving you a microscopic view of what works and what doesn't.
Another reason why Analytics is useful is that it can help you study and observe your website's click-through rate, when your CTA requires customers to click on a link, the click-through rate analyses the number of people who actually clicked on the link provided.
This helps in determining how strong your CTA is. This way the click-through rate can tell you whether or not you should update your CTA.
2. Traffic From Different Devices
If you are looking for additional input based on how users interact with your website and what factors lead to conversions, you can go to the 'audience' section and click on 'overview'.
This tab has overall data about user interaction, average bounce rate and conversion rate based on the type of device being used.
You get a complete download which means you gain insights on how optimised your website should be on a mobile device and on a laptop or a computer. You can also track the age groups you need to target and gauge what device the majority of your prospects are using.
These insights will help you market yourself to them better.
3. Demographic Information
Analytics can also generate data about your website visitors' age, general location, what brings them to your website, their interests and more. You simply need to enable 'demographics and interests report' to have access to this information.
4. Pay Per Click Services
Google Adwords is another service offered by Google that is mainly used for digital advertising and paid marketing. If you are making use of pay-per-click services (PPC), Google Analytics also lets you have access to a lot more data.
This may include how your website can appear on other pages, what keywords people use to find similar products and how you can boost your rankings on sponsored ads.
For this, you would need to link Google Adwords to your Analytics account. You will be able to view all the relevant information under the 'Google Ads linking' section.
5. Generating Backlinks
Any website owner would know that to generate more website traffic, you need a whole lot of content on your website.
This would require you to have the content shared on other pages and websites and generate enough backlinks. Google Analytics provides an option for this too, which is available when you click on 'all traffic' and then select 'channels'.
Once you do, you will be shown all the different sources of traffic to your website. This includes Search, Direct, Social, Backlinks, PPC, Email and much more.
It is then easy for website owners to determine where they can share their content depending on the source that generates maximum traffic.
6. Tracking Conversions
Google Analytics can be incredibly useful in tracking your return on investment (ROI), or simply put, how many conversions your website generates. SEO optimization takes a considerable amount of effort, which is why it is important to track whether your efforts are indeed generating results. If not, you could consider updating or changing what is not working for you. For example, if a product sells particularly well compared to others, you would have a better idea of gauging what sells well and plan accordingly.
7. Measure Organic Traffic
Analytics can also measure the amount of traffic that is being generated via organic search results compared to paid search results. It is a well-known fact that raw search results bring in more traffic and is the preferred option, generally.
However, paid traffic can also help generate traffic and build brand awareness. Analytics can help measure and compare how organic and paid search is driving traffic to your website.
You can track specific pages and posts to see the exact metrics from both channels. This way you would have a better understanding of what exactly needs to be done.
That is not all. You can even set up alerts using Google Analytics to notify you when there's a rise or drop in the amount of organic and paid traffic generated over time. This saves you the trouble of constantly monitoring these metrics yourself.
In Conclusion
Google has become a phenomenally useful tool for business owners everywhere. It's not simply a search engine anymore.
There are numerous ways in which these Google tools can help you generate leads, make more sales and build your brand presence.
Therefore, if your business is not making as much progress as you'd like, you might want to consider using Google Trends and Google Analytics.
We agree that a whole lot of information here is full of jargon, so it is best to partner with an expert SEO agency that knows its way around Google and its tools!