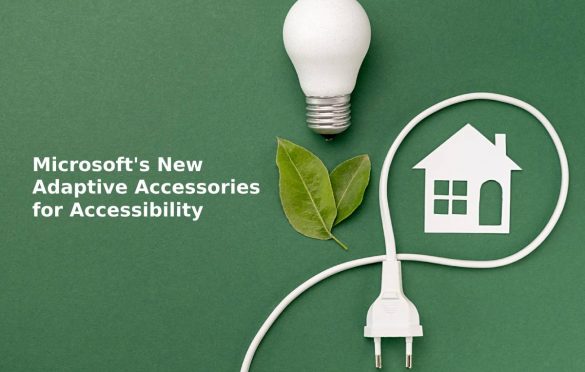 Microsoft's New Adaptive Accessories for Accessibility
It is widely agreed that few mainstream tech companies are putting as much effort into developing accessibility technology as Microsoft. Accessibility is very important to Microsoft. For example, the IT support services London based provider TechQuarters offers includes tutorials on Microsoft 365's accessibility features, which are extensive.
In 2018, Microsoft announced the Xbox Adaptive Controller– a device which offers a set of modular, highly configurable components to make gaming more inclusive. As well as this, in 2021, they released the Surface Adaptive Kit, which included tools to make opening Surface devices easier – namely a pull tab and ring – and several sets of stickers that provide labels and tactile indicators that you can add to your keycaps, as well as indicators for connective ports. In 2022, Microsoft will be releasing a new line of Adaptive Accessories.
Adaptive Accessories
These components are designed to replace – or even enhance – the functions of a standard keyboard and mouse setup, which can pose challenges to users with mobility issues. Microsoft's new adaptive accessories line is comprised of 3 devices: the Adaptive Mouse, Adaptive Buttons, and the Adaptive Hub. All 3 devices have been designed to be highly modular, meaning that they can be customized and adapted to fit the needs of any user. Let's look at these three devices in a bit more detail:
Adaptive Mouse
To start with, you have the Adaptive Mouse. Normal mouses are very limited in their design – the unconscious bias of manufacturers means that most computer mice are only suitable for non-disabled users. The Adaptive Mouse on the other hand is comprised of modular components, thus making it more adaptable to the specific needs of the user.
The adaptive mouse is made up of a mouse core – a small square device that contains the sensor on the bottom, and the buttons and scroll wheel on top. Microsoft have also designed a 'mouse tail' which clips onto the mouse core – this acts as the palm rest, and together the two components form the Adaptive Mouse in its most basic configuration. The Adaptive Mouse also comes with a removable thumb rest, which can be attached to either side – meaning this mouse is suitable for both left- and right-handed users.
The Adaptive Mouse also supports third-party tail designs that can be attached to the mouse core.
Adaptive Buttons
The next device in the line-up is the Adaptive Buttons kit. Microsoft have developed 8 different input attachments that come with the product, which can be configured in a number of different ways. For example, Microsoft has demonstrated a version of Adaptive Buttons with two easy-to-press buttons; but you could also opt for a joystick attachment, or an 8-way D-pad, taking inspiration from gaming controllers. The adaptive buttons can be programmed with various different inputs. For instance, you could assign a different complex keyboard shortcut to each direction on the 8-way D-pad – thus making it easy to execute sophisticated functions with a single movement.
Adaptive Hub
Last, but not least, the Adaptive Hub is the relay through which your inputs communicate with your device – whether it's a PC, Surface, or Phone. The Adaptive Hub can wirelessly connect with up to 4 Adaptive Buttons – or an Adaptive Mouse + 3 Adaptive Buttons, for example. This means users can use a diverse array of inputs that are tailored to their specific needs. But it goes even further, as the Adaptive Hub also has a number of USB-C and 3.5mm aux connections – meaning you can have several wired inputs on top of your 4 wireless inputs. The Adaptive Hub can be integrated with the Xbox Adaptive Controller, for example, or even third-party adaptive accessories, such as the Logitech Adaptive Gaming Kit.