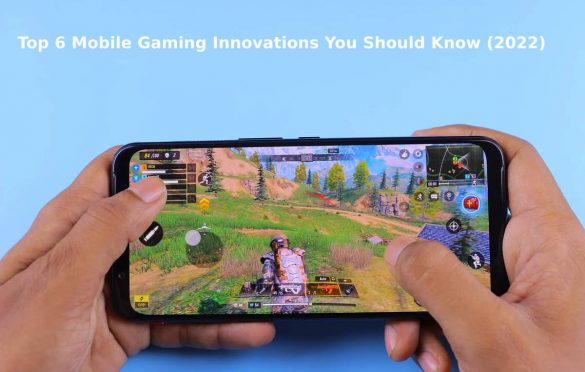 Top 6 Mobile Gaming Innovations You Should Know (2022)
The mobile gaming industry has been gradually penetrating the iGaming scene for the past few years, thanks to its convenience and efficiency. In 2020, the sector exploded courtesy of imposed lockdowns that forced individuals to turn to their smartphones for entertainment. To make the experience much more immersive, software providers rely on some of the biggest technological novelties, including virtual reality, augmented reality, cloud gaming, and blockchain technology. For information purposes, here is a detailed list of all the major innovations with explanations of how they have completely transformed mobile gaming.
1. Blockchain Technology
Blockchain is one of the principal innovations that took the iGaming industry by storm. The technology is best referred to as a decentralized ledger securely shared within a computer network, making it difficult to change and hack the system. This technology allows every user to monitor online transactions. It is the building block behind famous cryptocurrencies such as Bitcoin, Litecoin, Ethereum, Tether, and Ripple, which are used in mobile gaming to allow players to transact online safely. Instead of personal information, cryptocurrencies require confirmations to transact safely, thereby eliminating the theft of valuable information by unauthorized personnel. Note that the number of confirmations depends on the transaction's size and the cryptocurrency option being used.
Since its inception, blockchain has adversely transformed the mobile gaming industry by increasing the time taken to process deposits and withdrawals. For example, most Bitcoin mobile casinos guarantee instant funding of players' accounts, whereas withdrawals take up to 24 hours. Moreover, cryptocurrencies don't suffer from geographical limitations. Players can process payments regardless of their location. Using Bitcoin and other cryptocurrencies, you can also make in-game purchases for those playing mobile video games such as PUBG mobile and Minecraft. By streamlining online transactions, cryptocurrency methods are bound to increase the popularity of mobile gaming.
2. Live Casino Gaming
One of the biggest highlights of online casinos is live dealer games. These titles were introduced to allow players to enjoy the brick-and-mortar gaming experience in the comfort of their homes. To achieve such a milestone, software providers had to use live streaming and live chat features. Vendors set up gaming studios remotely and live stream the action to players worldwide. Each table at the studio has multiple cameras set up at different spots so gamers can view every angle of the table on their computers. As soon as live casino gaming was actualized, it was only a matter of time before the titles were optimized for mobile devices. Currently, you can log into some of the best NetEnt casinos on your phone and play top live titles by the game developer.
Even more, there are variations of live dealer games, with some of the main categories being live blackjack, baccarat, roulette, and live poker games. Each selection features skilled croupiers who operate the table. Mobile live titles also allow in-game communication courtesy of the live chat feature. Your core duty is to ensure you have a smartphone gadget that can effectively display and launch live casino games without issues.
3. Virtual Reality & Augmented Reality
Virtual Reality and Augmented Reality, also known as VR and AR, are cutting-edge novelties that immerse mobile gamers into the iGaming world. Software developers and game publishers use these two technologies to breathe life into different video games. VR creates the digital environment of specified titles, whereas AR manipulates and alters the game elements by giving them real-life characteristics. Pokemon Go is one of the top mobile video games that have successfully adopted this trend. You will also be impressed to learn that VR and AR are trickling into the online casino scene with games such as Gonzo's Quest by NetEnt, allowing players to interact personally with the reels.
While in the digital environment, you can effortlessly go through the game's instructions, an important step when learning how to win with online gambling. Once VR and AR are fully incorporated into the iGaming scene, it will make online casinos compelling, thereby increasing the number of players signing up on different brands. However, VR and AR come with overheads that you can barely avoid. For instance, you must purchase VR headsets to enjoy the immersive gameplay on your phone. The gadgets will help transform your phone's display and intensify the VR and AR experience.
4. Artificial Intelligence (AI)
Different sectors and companies are currently benefiting from Artificial Intelligence or AI, one of the main technological innovations of this century. For instance, the streaming giant Netflix is using Artificial Intelligence to provide movie recommendations to clients based on their previous watchlists. The same is happening in the mobile gaming scene. Online casinos running legal lotteries, and slots are using AI to suggest popular games that players should consider. The catalog is entirely dependent on the titles players are frequently launching. Also, AI is being applied to chatbots and virtual assistants whose job is to provide solutions to players. The technology has fully transitioned the mobile gaming experience by minimizing downtime.
After all, the virtual assistants operate round the clock offering a swift response to questions and inquiries. In a world where customer service is crucial in determining user experience, AI comes in handy by enabling casinos to preserve dependability and responsiveness. Unlike VR and AR, Artificial Intelligence does not require additional gadgets for gamers to enjoy its offerings. Instead, you just need your smartphone to meet the minimum system requirements. For instance, it should have the latest operating system and be able to connect to the internet, especially if you are an online casino gamer. Note that game developers and publishers are working overtime trying to figure out other ways they can use the innovation to streamline mobile gaming.
5. 5G Network
The fifth-generation mobile network is another incredible innovation that has taken the world by storm. 5G, as it is commonly known, is a global wireless standard that is faster and more efficient than its predecessor, 4G. Furthermore, it exhibits low latency with increased bandwidth enabling it to relay data rapidly. These pros are enjoyed by smartphone users who depend on high internet speeds and swift data transfer to enjoy mobile gaming. To be precise, online casino gamblers using a 5G network are guaranteed smooth gaming sessions without worrying about lags. On the other hand, live casino games no longer buffer while streaming an important session or tournament. With the network, mobile gaming is much more appealing and compelling.
In fact, it is the network used by some of the top sportsbooks in DC area. The only disadvantage is that 5G is not spread-out as 4G, making it only available in specific locations. So far, even in nations where 5G is prevalent, only a fraction of the population can access the network. This limits the number of mobile gamers enjoying the innovation. But then 5G launched recently, and its reach is expected to expand in due time. For example, in countries such as India, the 5G network is already accessible by more than 1.4 billion individuals, most of which are avid gamers.
6. Cloud Gaming
If you are a keen gamer, you already know that in the past, you had to download software to play both video and online casino games. This made it impossible for individuals whose phones had inadequate storage to enjoy their favorite gaming solutions. To solve the problem, game developers leaned on cloud gaming technology. The innovation allows players to launch gaming solutions and play them without making any downloads. As a result, you no longer have to spend too much money purchasing a phone with adequate storage to play your favorite gaming solutions. All you need is access to the internet and a capable phone.
The technology is applied to popular online casino games like slots, baccarat, and blackjack. It is also used in multiplayer and first-person shooter games such as Call of Duty: Modern Warfare mobile. The same innovation allows you to stream live dealer games on the move. The only concern with cloud gaming is its high data consumption when playing any title, including classic casino games with basic graphics. However, user satisfaction outweighs the demerits of cloud gaming. You can also be certain of a better tomorrow now that Sony, Gaika, NetEnt, Microgaming, and other game developers are working tirelessly to enhance the usage of the technology.
These are the biggest innovations on the planet that have changed mobile gaming immensely. Game developers use each technology discussed above to enhance gaming solutions and improve user satisfaction. Some, such as Virtual Reality and Augmented Reality, put you in the center of the game and allow you to soak in the digital atmosphere as long as you have the necessary gear.