How to Improve Communication on Remote Work?
How would you maintain remote workers' interest?
Most executives in this new era of working at home are asking themselves this problem.
Although it is imperative for a business to know how to properly communicate, it does not happen immediately.
Only the most experienced organization will find transitioning from a tangible coworking space to a mix of virtual workplaces difficult.
In simple words, what is Remote Work?
Remote employment is becoming more popular every day. Operating remotely for a business headquarters has indeed been possible for several years, but it is just becoming more and more commonplace.
Working remotely is an important method of working that enables employees to function outside of a regular workplace setting. It is founded on the idea that labor doesn't have to be completed in a certain location in order to remain effective.
Consider this: rather than going to a workplace every day to work from a certain workstation, remote workers could complete tasks and meet their objectives anywhere they want.
Having the freedom to plan their schedules in such a way that both their personal and professional life can flourish while coexisting happily.
A social mindset change has occurred in what people consider to be an acceptable location, and online employment has benefited from this greater independence.
People could work from home in a number of different forms. That's the magic of distant employment: individuals may select how they work based on their personal circumstances.
For an instance, many individuals may be able to work online for the bulk of the week but must come to the workplace one time each week for personal appointments.
On a regular week, most remote workers work from their residences or local cyber cafes, although they can also work from their business' headquarters if required.
This kind of "Hybrid" type of work really seems to be the future of the way people work. So make sure to check these tips on how to improve communication while working remotely.
Make the most out of Collaboration and Communication Tools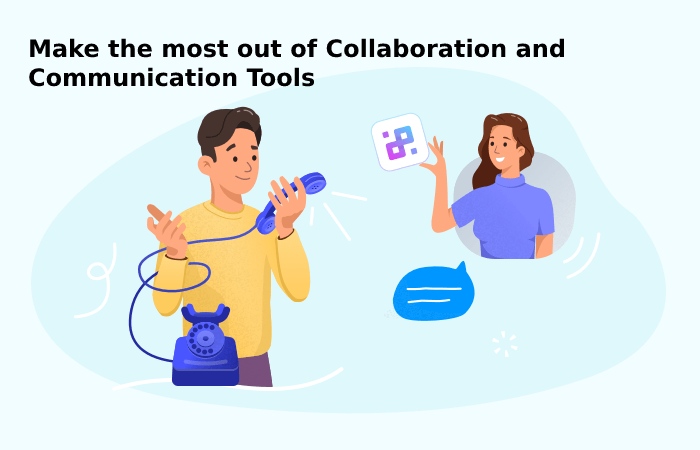 Communication channels are a straightforward notion to discuss but difficult to define. They assist organizations and individuals in achieving a common objective. But what exactly are collaborative and communicative tools? Is there a difference between a project planning application and a collaborative tool? Yes, of course.
Here are a few descriptions:
A messaging application that allows numerous individuals to collaborate on ideas.
An application for managing projects that specify assignments for a set of people.
A technology for teleconferencing that allows users to communicate face-to-face.
A document-sharing system that makes assets available to a large number of users.
Regardless of the technology's purpose or function, it all means working collaboratively simpler in a certain manner.
The best providers for this type of application are Slack, Trello, and Asana.
Take Advantage of Daily Meetings
Because working remotely became the standard for several companies, it's critical that we communicate properly with one another.
Naturally, the framework of a conventional building day does not completely transition to a remote work situation. In other terms, as my company transitioned into these new surroundings, there was a need for adaptability.
Regular daily gatherings are an excellent example of all this. We'd just turn to one another in the workplace and discuss our day's successes and intentions. People have gathered behind a Skype virtual workplace to do the same.
It tones for the rest of the day and enables everybody else to interact in ways that are compatible with our changing environment.
While remote working you don't have someone next to you to remind you about something, so make sure to use those regular meetings the best way you can to always have in mind what your priorities will be.
Consider investing in a Cloud Phone System
Creating a robust communication line with suppliers, collaborators, clients, and users is critical for all businesses.
While working abroad, smaller workers may find the mixture of phone conversations, emailing, and messages to be too much to manage.
Several smaller firms are increasingly choosing cloud based business phone systems, which have shown to be more versatile and cost-effective than on-premise telephonic equipment.
Cloud phone systems are already cheaper than traditional phone lines and also come with several features:
Auto-attendant
Advanced call analytics & reporting
Call parking & customized call on hold
Voicemail to email
International calling
Unlimited calls
The best cloud phone systems are UTATEL, Nextiva, and RingCentral.
Bottom Line
When communications get culturally ingrained in the DNA of your firm, it will enhance practically every area of its productivity. You can look up successful methods on the Web and get some solid tips, but nothing beats the impact of better communication.