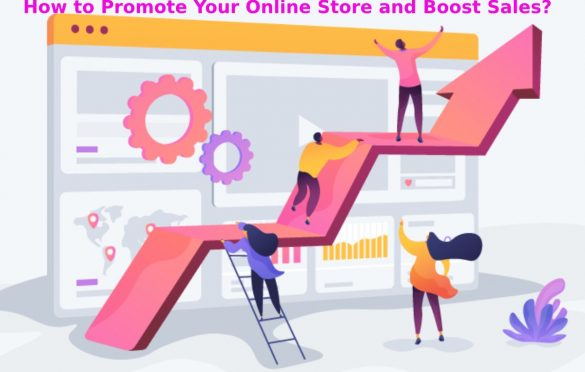 How to Promote Your Online Store and Boost Sales?
By 2023, e-commerce will account for 22% of all retail sales worldwide.  This total figure undoubtedly includes the expanding volume of e-com websites.
Promote Your Online Store and Boost Sales – If your offline business is successful, marketing is nothing new to you. However, the methods for bringing customers to your digital site are quite different. You'll be capable of reaching more prospective consumers with an online store and have total control over how they shop. However, this is not a case of — if you create it, people will arrive.
In this post, we'll discuss a few of the top strategies for promoting your online store to potential customers.
5 Powerful Ideas to Boost your Online Store's Traffic and Sales like a Pro
Let's explore five strategies you may use to boost traffic to your online store – from advertising to current customers to obtaining new consumers.
1. Make Use of and Continue to Expand your Email Database
Having a solid email marketing diagram is crucial, even for brick-and-mortar businesses. Gather as many account details as possible from people with an interest in your services, consumers, and potential customers. Once you start selling, you'll be prepared to notify everyone via an email alert that customers can go to your company's website.
It is a smart idea to consider email campaigns for offering promotions to your subscribers or giving discounts for referrals to entice users to tell their family and friends about your website.
Some businesses utilize pop-up boxes, asking customers to submit their email IDs in exchange for a little offer, such as free delivery or a discount of 20% on their first order. Additionally, you need to confirm that your mailing list is receiving regular communication from you. Develop a consistent email frequency and include specials, fresh material, new product introductions, and other updates that can tempt consumers to come to your website.
2. Strengthen your Organic Presence on Social Media
You should seize every possibility to increase digital appointment for your online store. Give additional attention to your brand's social media posts and ensure they are filled with lively photographs and interesting videos. This is among the simplest and most efficient methods to boost your digital footprint socially.
We adore how Bon Bon Bon utilizes their Instagram account to display these exquisite pictures of their merchandise.
Hosting freebies, collaborating with influencers who are involved in your field, and utilizing relevant hashtags are excellent methods to harness social media. Expand on your social presence if you already own a devoted following. Increase the number of times you post, and spend more hours producing compelling short videos plus rich visual elements. You can create enticing social media posts in minutes using retail sale posters by sites like PosterMyWall.
Increasing engagement rates with your following raises the likelihood that their followers will become aware of your brand. You should not only embrace user-generated content but also encourage sharing.
3. Make your Website SEO-Friendly
SEO (Search Engine Optimization) covers a wide range of topics, therefore attempting to improve your ranking can send you spiraling into a very dark rabbit hole.
When you're just getting started, consider the following.
Consider your user's perspective. Does your targeted audience discuss your merchandise? What details do they desire to know?
Pay close attention to the text on the site. On-page content includes things like product names and descriptions, pictures, any blog posts, as well as other information you may have.
Ensure the material answers your consumers' inquiries and employs terminology they could readily use when looking for relevant products.
4. Produce Informative, Entertaining Content
A smart strategy to drive traffic and offer valuable content that establishes your business as an authority in your industry is to write excellent content for individuals interested in buying your products.
Robert Ellis, the proprietor of Bavarian Clockworks, sought to create comprehensive reference sites when he opened his e-commerce store so that customers could learn more about his items, which were genuine German cuckoo clocks.
Ellis says: "Our user guides are the nucleus of the website. They provide huge value to potential customers, and it's also fantastic for SEO."
5. Experiment with Google Ads
In order to rank top in search results pages, you can bet on keywords by utilizing Google Ads in search engine advertising.
SEO is mostly about obtaining the desired "top position," but be aware that Google Ads still will appear first. Since SEO doesn't involve any design work and may be quite efficient at bringing in new visitors, it's a terrific approach to promote your brand. Results are provided instantaneously, so you can modify your campaign tactics, depending on your performance.
Conclusion
Generating traffic and boosting your online footprint is a difficult task that takes time and effort. Take one step at a time and relate the techniques recommended in this article.
Avoid overcommitting yourself by undertaking several activities at once. Instead, adopt some effective marketing strategies and practice consistency and patience. Your firm can reap the greatest long-term rewards and stable earnings if you start with a well-thought-out strategy.