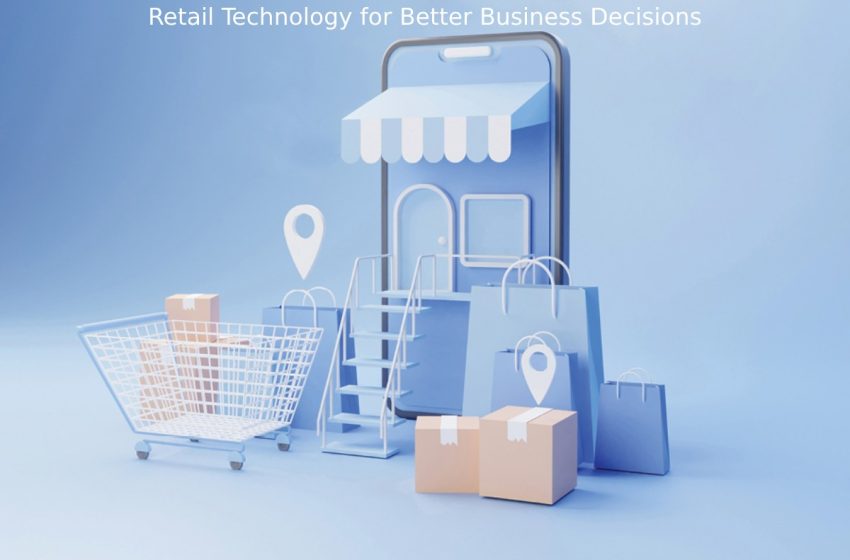 Retail Technology for Better Business Decisions
Retail Technology for Better Business Decisions – According to experts, 72% of retail sales in the United States will still take place in physical stores by 2024. However, today's retail enterprises must operate with speed, agility, and efficiency. So, retail businesses should make investments in automated statistical forecasting systems, computerized inventory management systems, point-of-sale systems, and central databases to accomplish this goal.
Moreover, there will never be a better opportunity than the current time to initiate investments in retail technology for business.
If you are unsure where to start, read the article below to check out the six retail tech trends you should be aware of, including a guide to assessing your existing retail technology solutions.
The Importance of Retail Technology
The concept of incorporating more technology into the operation of a traditional brick-and-mortar business can be overwhelming for many store managers. Let us look at some of the reasons that make it a good investment.
Streamline Store Operation
When you are able to finish routine duties more quickly, you will have more time to devote to activities that have a greater impact. A self-checkout system, for instance, liberates retail store employees to spend more time interacting with customers who have inquiries regarding their upcoming purchases.
Collect Valuable Data
Data is the fuel that drives technology. This makes it possible to collect information about your customer base, which is something that retailers have a hard time doing in an era where 75% of customers are getting more concerned about their privacy.
Connect With Customers
Consumers are becoming more cautious for a variety of reasons, including worries about their personal privacy, as well as the aftereffects of the pandemic. The ability to connect your offline and online worlds is the best thing about technology. Customers want a comprehensive shopping experience, which technology may help you deliver instantly.
Retail Technology Trends
After keeping a close eye on what retailers are doing to improve in-store experiences, we have found six retail technology trends that we expect to hear a lot more about this year.
QR Codes
When a quick response (QR) code is scanned using the camera on a smartphone, it retrieves information in a similar way to that of a barcode. QR codes are small combinations of black squares like barcodes.
According to Statista, 59% of shoppers in the United States anticipate that scanning QR codes will become a regular part of any customer's shopping experience in the near future.
RFID Technology
If you ask any retailer what jobs they hate the most, "handling inventory" would undoubtedly be one of them. The monitoring of stock in retail stores is a time-consuming process for retailers, of which 62% blame it on human error when inventory management is messed up.
Now, there is technology available that can solve that issue, and reduce the amount of time spent counting store inventory. You can scan the RFID tags attached to the products using a portable reader to instantly update the stock levels in your inventory management system. RFID tags are little chips that provide product data to the reader.
Augmented Reality
Augmented reality (AR) is a cutting-edge technology that overlays computer-generated imagery (CGI) onto physical environments. For example, consider the filters available on Snapchat, which superimpose cartoon ears, spectacles, or other characteristics over your face that move in sync with your expressions.
NFTs
Non-fungible tokens, also known as NFTs, are singular pieces of digital material such as photographs, videos, tweets, and audio files that are owned by a single individual. The token's data is kept on a blockchain, a secure and decentralized ledger of data. This record may be accessed by anybody. In 2021, sales including NFTs reached a total of $13.9 billion.
Smart Checkout
The conventional checkout business process outsourcing is quickly losing its relevance. Long queues await retailers who don't use mobile point-of-sale equipment in their stores. Long checkout lines are cited as a key source of frustration by 60% of shoppers, however, two-thirds believe that automation can solve this problem.
Store Management
It is impossible to run a successful retail store without a human crew, no matter how much technology alters the in-store experience. You need to have staff available to open the business, present the inventory, and provide assistance to customers who still prefer to interact with a real person.
In this case, you as a retail store owner can use various types of retail tools to manage your store smoothly, such as Gusto (employee payroll management tool), Planday (staff scheduling tool), and Dor (store performance tool).
Get the Right Retail Tools for Your Store
The way consumers shop in-store is evolving because of the advancements in retail technology for business use. Your store must satisfy client needs to remain competitive.
So evaluate your existing retail technology solutions (toolkits) and look for areas where they may be improved. Once you have mastered the fundamentals of retail technology for business, try out the latest innovations, such as NFT integration and smart checkout features. So, getting the right retail tools in your store can help you attract more customers with new technology.