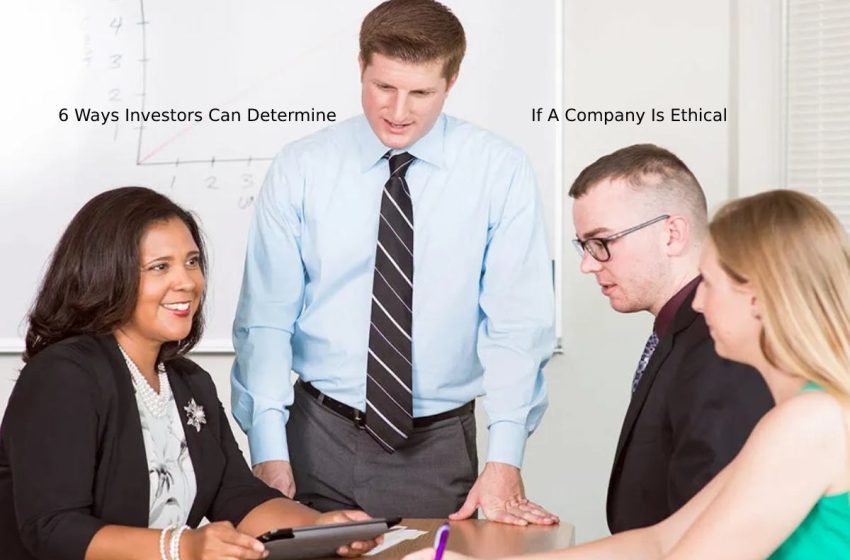 6 Ways Investors Can Determine If A Company Is Ethical
Investors Can Determine If A Company Is Ethical – Ethics in business entails using your principles as the primary filter in selecting the securities to invest in. Ethical investments will result in personalized results.
Beliefs in ethical investing are rooted in religious, environmental, or political grounds. Investors can choose specific companies over others if they meet their guidelines. While ethical investing is a good practice for saving the globe, it does not guarantee performance if not well thought out.
Read on for 6 ways investors can determine an ethical company.
Check The Company's Transparency
Transparency builds trust in businesses and enhances relationships. An ethical company will disclose information about its products, including where and how they source materials, run its affairs, and treat its employees. Such companies encourage customers to ask questions and embrace feedback.
A sustainable company should also be careful about its operational impact and disclose information about it. Such companies are keen on owning their mistakes and will provide proof of their adoption of sustainable practices upon correction.
Check The Mission Statement
An ethical company embraces sustainability from its onset. This means its mission statement should provide insights into the company's beliefs. The drive behind a brand indicates its dedication to being ethical.
Check The Company's Accreditations
Another way to confirm a sustainable company is by checking its third-party certifications, such as the UNSDG and B Corp accreditations. Receiving these accreditations requires a company to meet ethical criteria. Therefore, a company with such awards implies they are strongly ethical.
Is The Company Fair Trade?
A fair trade status is attainable upon certification as a brand complying with the International Labor Organization (ILO) standards. Fair-trade companies practice democracy in fund allocation among workers, protect women's rights, equal pay, and fair trade premiums.
Check The Safety Of The Company Products
Examining the sources of a company's products is another way of distinguishing an ethical company from the rest. A company that tests its products on animals is unsustainable. You can confirm if a company is cruelty-free by checking its FAQ page.
Check Self-Imposed Codes And Inspections On Environmental Issues And Trade
An ethical company will avail its code of ethics on its website for its customers. You can access this document at the bottom of the home page or the About Us link. These codes explain the company's sustainability guidelines and practices toward achieving these standards. Internal and external audits are a common way of attaining these practices.
When checking a company's adherence to codes or inspections, ensure they are self-enforced. A company that signs up for inspection and accountability for noncompliance with self-enforced codes and inspection is ethical.  Even better is a company detailed in its reports on the implementation of standards they have stated.
Invest In An Ethical Company
As an ethical investor, you should be careful about the companies you put your money into. Checking the above traits is critical to establish if a company is ethical, as some may pose as ethical in words and not in actual practice. Therefore, before making your next investment decision, take your time to research and study your choice company.